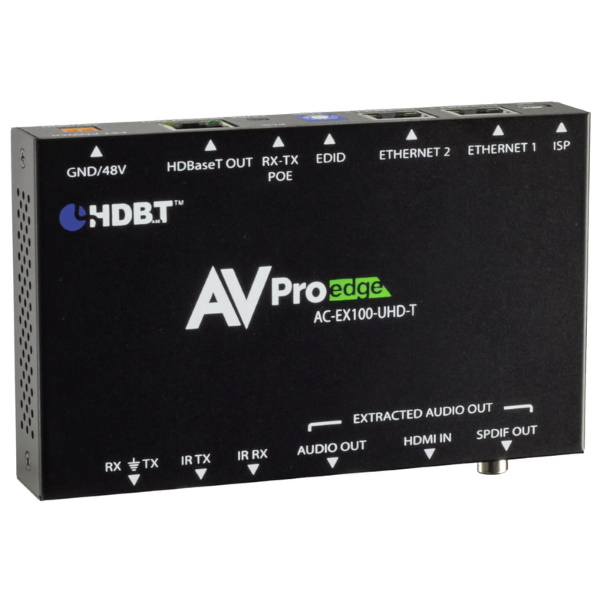 AVPro Edge AC-EX100-UHD-T – 100m HDBaseT Transmitter with RS-232, IR, Ethernet and EDID Management
Product Information
Documents
AC-EX100-UHD-T
The AC-EX100-UHD-T is a 100m HDBaseT Transmitter with RS-232, IR, Ethernet and EDID Management.
Comprehensive Features = Easier Implementation
HDMI 2.0
4K60 4:2:0, 4K30 4:4:4, 3D Support
HDR Support up to 4:2:2 12 Bit
100M (330ft) on 1080P, Up to 70m (230ft) on 4K (Cat6a)
Ethernet hub & extension
EDID Management
Compatible with HDBaseT Receiver Products
This long range (100m, 330ft. up to 4K30) HDMI extension device is unrivaled with it's unique set of features. The receiver was designed to be a true problem solver, when the situation requires more power, distance, added Ethernet and reverse power or control, the Bad A** Extender or B.A.E has it covered. Using the most powerful HDBaseT technology on the market, this product is sure be a long-lasting part of your video distribution infrastructure.
​
The B.A.E features advanced functions like​
Ethernet Hub – The transmitter and receivers both have Ethernet ports acting as a bi directional Ethernet hub.
EDID Management – Select from preloaded EDID's so you can have total control over the active source.
Key benefits of using AC-EX100-UHD-T:
1) ULTRA HIGH DEFINITION: The length of manufactured HDMI cable is unchangeable after it is made and they are unreliable after about 25FT. Additionally, HDMI connectors can only be terminated in specialized factory environment due to its extremely high frequencies and high density. This does not allow installers or users to remake or make cables on a DIY basis. CAT6A cables are available widely and can be reworked easily by the installer or end-user.  Our AC-EX100-UHD supports 4K up to 70M (230ft) with crystal clear 4K Resolution & 100M (330ft) on 1080P
2) DISTANCE: By using AC-EX100-UHD, the transmission distance for HD 1080P is 100 meters (330ft) & 4K is up to 70 meters (230ft)
3) EDID MANAGEMENT: Control the source device with EDID management.  With the multitude of sources out there, this feature allows you to fix a known good EDID so the source device knows what to output…. every time.
4) CONTROL: IR & RS-232 are bidirectional and can control the sources from the sinks or vice versa.  This allows unlimited flexibility when controlling sinks, and sources.  Control the rack or source and the display or sink over the same single wire.
5) AUDIO EXTRACTION: The Tx on the pair had audio outputs for PCM audio – You have balanced 2-channel and SPDIF outputs to run audio directly into a local AVR or even more common, use the 2-channel audio to go into a distributed audio amplifier/matrix.
6) I-PASS: Plug you Control System emitter ports directly into the IR port on the transmitter (via mono 3.5mm cable) for clean and reliable IR pass through, our unique VPC (Voltage Protection Circuit) allows you to do this without wear and tear on the sensitive electronics inside.
DIAGRAMS & APPLICATIONS
OTHER APPLICATIONS
Ultra-long distance 4K HDMI Extension (70m, 230ft on 4K) (100m, 330ft on HD).  Think auditorium, large classrooms, large homes, long home runs.
Insert to manage a problem source or add a 4K source.  This extender can be placed in a system to properly manage sources with EDID, or upgrade a source to 4K.  

NOTE – Most extender products can only do short range on 4K, these go further than others on the market.

​
Extended Ethernet (internet) distribution.  These connect and act as additional hubs for LAN connections.  You can easily supply the local sources with reliable wired connections for internet rather than Wi-Fi.  Perfect for local gaming systems, Blu-ray players, computers and more.
When power at the rack is not an option.  For instance, there is simply too many power supplies or it is difficult to get to, with The B.A.E. you have the option to power the transmitter from the receiver (your option).
Full Feature Set
HDMI 2.0
4K60 4:2:0, 4K30 4:4:4
HDR Support up to 4:2:2 12 Bit
Supports 3D
HDCP 2.2 & Earlier
CEC Pass Through
100M (330ft) on 1080P (Cat6a)
Up to 70m (230ft) on 4K (Cat6a)
Ethernet hub & extension
Audio Extraction on Tx (SPDIF, Balanced 2ch, PCM Only)
EDID Management
I-Pass Feature for control system "pass-through IR"
3-20v protection circuit built in for safe IR transport
Bi Directional RS232 Transport
ieee PoE for universal HDBaseT Installations
Compatible with HDBaseT displays, projectors, AVR's
Supports uncompressed PCM 2- Ch., LPCM 5.1 & 7.1, Dolby Digital, DTS, Dolby TrueHD, DTS HD-Master Audio, Atmos
Can Cascade

What's in the box?

AC-EX100-UHD-T (Transmitter)
48V Power Supply (One supplied)
1 x IR Tx Unit
1 x IR Rx Unit
Mounting Ears x 2
3-Pin Phoenix for RS-232 Port

*Optional RS-232 Cable SKU: AC-CABLE-3.5-DB9F (DB9 Female)
*Optional RS-232 Cable SKU: AC-CABLE-3.5-DB9M (DB9 Male)
*Optional 5-Pin to Stereo Cable SKU: AC-CABLE-5PIN-2CH
Additional information
| | |
| --- | --- |
| Weight | 2 lbs |
| Dimensions | 8 × 6 × 4 in |