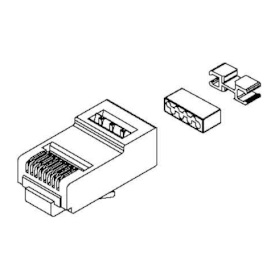 Belden CAPFCU-B25 CAT6/6A Unshielded Modular Connectors (Bag of 25)
Belden CAPFCU-B25 Modular Connectors – FIELD CRIMPED PLUG 8MOD (RJ45) CAT6/6A UTP KIT
Bag of 25
Download the Technical Datasheet
Download the Installation Instructions
Suitable Applications:
TIA Category 6 & TIA Category 6A, ISO Class E, ISO Class EA, 1000BASE-T, 10GBase-T Suitable for Conductors with insulation OD range 0.037~0.045 in. and for Cable OD range 0.23~0.31 in. (6~8 mm ). Please refer to the cable-plug compatibility guide ?Plug Compatibility Matrix V1 ECOS BDC 0415 A AG? for proper pairings.
Included Parts:
RJ45 Plug, Load Bar, Wire guide, Installation Guide.
Accessory Part:
Belden CB8MM Boot?(Not Included)
Dimensions:
0.312 in H
0.460 in W
0.885 in L
Materials:
Plug = RJ45 Polycarbonate
Contact = Phosphor Bronze Alloy Plated with 50? inch Gold
Color = Clear
Recommended Tool:
Belden CPRJ11-45 Category Cable Strip & Crip Tool
Applicable Specifications and Agency Compliance (Overall)
UL Rating: 94V-0
Other Standards: FCC Part 68, Subpart F, IEC 60603-7
EU Directive 2002/95/EC (RoHS): Yes (07/01/2006
Telecommunications Standards: Category 6 – TIA 568.C.2, Category 6A – TIA 568.C.2, ISO/IEC 11801:2002 Ed.2
Other Specification: Complies with ANSI/TIA-1096-A Requirements