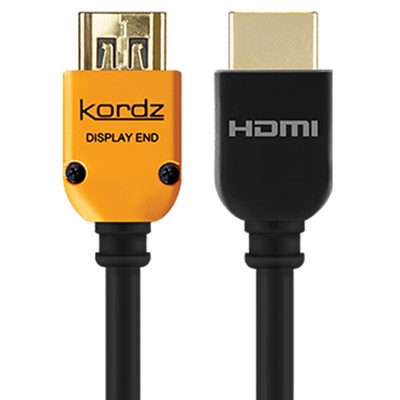 Kordz PRS3 4K UHD 18Gbps ACTIVE OPTICAL FIBER HDMI CABLE
Active Optical Cable (AOC) Fiber 4K/UHD 18Gbps Certified by DPL Labs
– Available in 7.5m, 10m, 12.5m, 15m, 17.5m, 20m, 25m and 30m lengths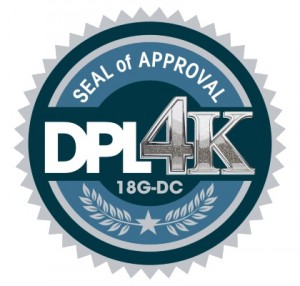 Product Information
Kordz?PRS3?features a narrow profile full metal die-cast shell assembly behind a unique grip tab HDMI connector for 1kg. Engineered to mitigate connector dropout potential – not suitable for repeated plug/unplug events.
DPL Labs Certified 4K UHD 18G-DG on all lengths
High Speed with Ethernet
PRS is available in lengths 7.5m – 30.0m, Active Optical Cable
Engineered to fit through a 1 inch conduit
Infrared soldered pin transitions for benchmark inter-terminal uniformity
Unique grip tab connectors for permanent installations
PRS has 1kg retention capacity for the AOC HDMI Cable
100% of units tested on the production line for electrically continuity on all pins, with full Bit Error Rate (BER) application test
LSZH (Low-Smoke Zero Halogen) fire rated in all lengths
Limited Lifetime Warranty
---
DPL Laboratories, Inc. are experts on high-band- width digital signalling solutions. The respected DPL 4K Product Certification Program is designed to combat the fears of cable and display manufacturers and end users alike.
---
Technical Specifications
HDMI Compliance
Certified Data Rate: 6.0Gbpsc, 17.82Gbps aggregate
Supported Data Rate: > 6.0Gbpsc,17.82Gbps (4K UHD)
Supported HDMI Clock: 27-340MHz
Mechanical
Cable Diameter: 6.5mm / 0.26″
Mounting Length: 58.2mm / 2.29″
Cable Bend Radius: 35.0mm / 1.38″
Retention Force (nominal): 29.7N (3kg / 6.6lbs) 10/-5%
Construction
Primary Conductors: 4x Polymer Insulated Glass Fibers & 32 AWG Tinner Copper wire
Insulation on TMDS: Polymer
Insulation on 4C + HEAC Pairs: Solid polyolefin less than or equal to 2.0 relative permittivity
Shielding Overall: Al/Mylar
Cable Jacket: LSZH Composite, all lengths
HDMI Connector Shell: Premium gauge folded steel, 1μm 24K Gold plated
HDMI Connector Pins: Solid OFC, 15μm 24K Gold plated
Active Technology: Directional, In-shell Optical Light Engine
Termination: Contactless IR induction soldering
HDMI Backshell: Orange & Charcoal powder coated with stoving varnish die-cast zinc alloy shell assembly
Applications
For permanent, standards compliant short or long length High Speed HDMI connectivity installations
In-wall cabling, fits through a 1″ conduit
Hotel room AV systems and bars
Digital signage & video walls
UHD video and professsional graphics up to 1440 Vres
1080p & 2160p (UHD) projector installations
HDMI 2.0 scaleable.