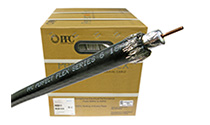 PPC Perfect Flex Tri-Shield Series 6 Coax Bulk Cable
PPC Perfect FlEXSeries 6 Tri-Shield CCS Indoor Cable
– 1000ft Spool/Box (P6ET77VVBF-1000) (Black)
– 1000ft Spool/Box (P6ET77VVWBF-1000) (White)
– 500ft Spool/Box (P6ET77VVBFC-500) (Black)
– 500ft Spool/Box (P6ET77VVWBFC-500) (White)
Product Information
Documents
PPC Perfect Flex Series 6 Indoor In-Wall CATV Rated Cable
Specs:
Trishield 18 AWG copper covered steel center conductor with Perfect Prep™ Bonded Outer Tape
Closed cell foamed PE dielectric
Laminated shielding tape / Braided 34 AWG aluminum wire
UV stable, PVC jacket
Compliant with ANSI/SCTE 74 specifications for braided 75 Ohm flexible RF coaxial drop cable
100% certified material testing
Exceptional electrical performance from 5 MHz to 3GH
Key Features:
Micro-crack resistant with superior results in flexural performance
Manufactured with 100% RoHS compliant materials
Corrosion resistant protectant designed to eliminate moisture migration into the cable
Packaging – 1000ft Perfect Cube Spool-in-a-box or 500ft Spool-in-a-box
Perfect Cube ™ packaging offers the convenience of a reel design with the benefits of box packaging.? Installers can easily pull cable from the box without the cable kinking and the outer box has a recyclable, protective coating that resists moisture damage.? Banding around the box increases durability and improves handling and the reinforced handles reduce tear-out.