Kordz PRS3 4K UHD 18Gbps Long-Haul DPL Labs Certified Active Copper HDMI Cables
Product Information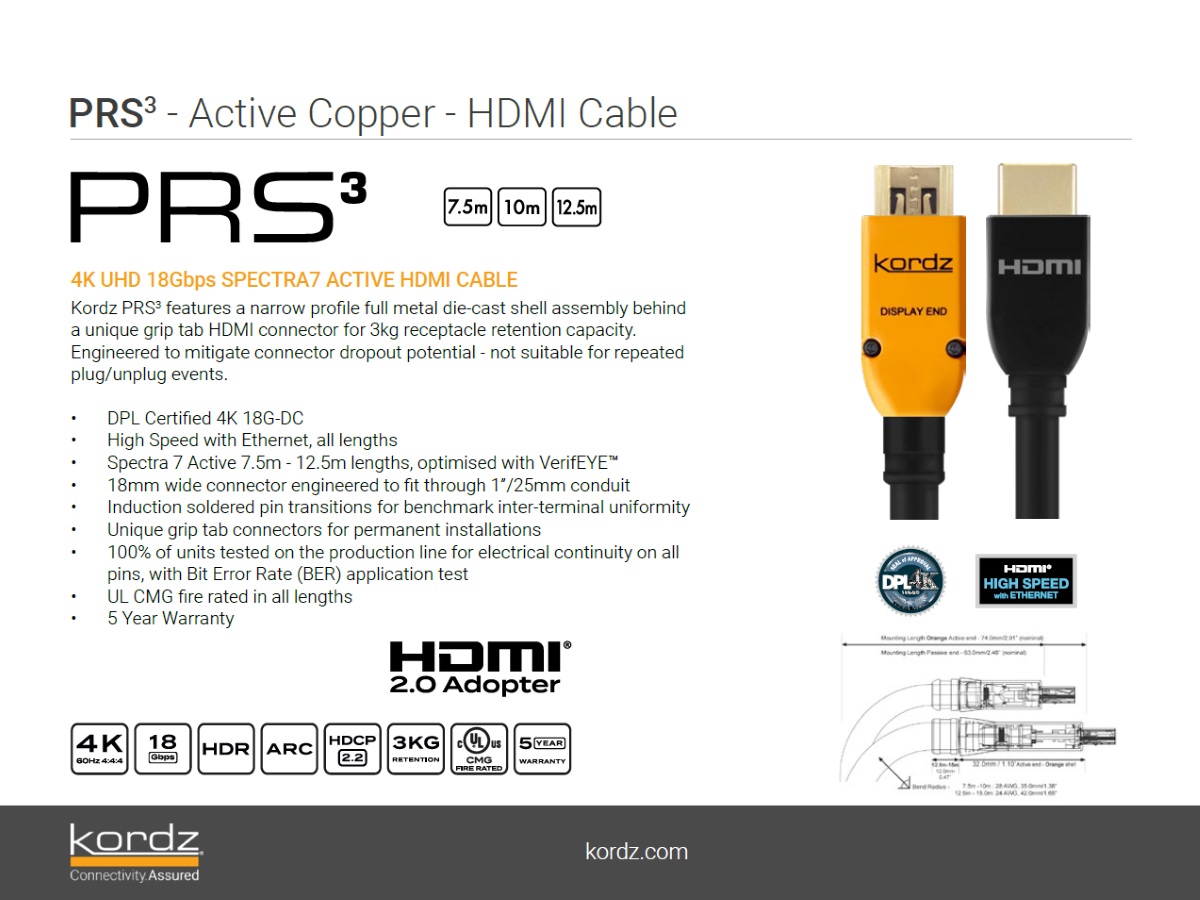 ---
DPL Laboratories 4K-18G Deep Colour
DPL Laboratories, Inc. are experts on high-band- width digital signalling solutions. The respected DPL 4K Product Certification Program is designed to combat the fears of cable and display manufacturers and end users alike.
---
Technical Specifications
HDMI COMPLIANCE
HDMI CTS Certification: High Speed with Ethernet
Certified Data Rate: 3.4Gbpsc, 10.2Gbps aggregate
Supported Data Rate: > 3.4Gbpsc (4K UHD)
Supported HDMI Clock: 27-340MHz
MECHANICAL
Cable Diameter: 28 AWG 7.5mm/0.30″ | 24 AWG 8.5mm 0.33″
Mounting Length: Source end: 28 AWG, 63.0mm/2.48″ | Display end: 24 AWG, 74.0mm/2.91″
Cable Bend Radius: Source end: 28 AWG, 35.0mm/1.38″ | Display end: 24 AWG, 42.0mm/1.65″
Retention Force (nominal): 29.7N (3kg / 6.6lbs) 10/-5%
CONSTRUCTION
Primary Conductors: Solid 24-28AWG OFC, length dependent
Insulation on TMDS: HDPE
Insulation on 4C HEAC Pairs: HDPE/Foamed-PE/Polyolefin, length dependent
Shielding on TMDS Pairs: Al/Mylar
Shielding Overall: Al/Mylar Al braid 80% coverage
Cable Jacket: UL CMG fire rated PVC
HDMI Connector Shell: Pressed steel with dual grip tabs, 1?? 24K Gold plated
HDMI Connector Pins: Solid OFC, 15?? 24K Gold plated
Active Technology (7.5m-15.0m): Directional, Spectra7 in-shell module
Termination: Contactless IR induction soldering
HDMI Backshell:?Charcoal powder coated with stoving varnish die-cast zinc alloy shell assembly
HDMI Active Backshell: Orange powder coated with stoving varnish die-cast zinc alloy shell assembly
---
APPLICATIONS
For permanent, standards compliant medium to long length High Speed HDMI connectivity installations*,
Installations where desired connector retention exceeds that of standard or die-cast connectors*,(grip tabs provide 50% more retention force at 29.7N/3kg nominal),
7.5m lengths with Spectra7 technology for direct interconnection between AV devices?,
In-wall cabling, fits through 1? ? conduit,
Hotel room AV systems and bars,
Digital signage & video walls,
UHD video and professsional graphics up to 2160 Vres,
1080p & 2160p (UHD) projector installations,
HDMI 2.0 scaleable.
*Proprietary grip tabs are NOT suitable for repetitive plug/unplug events, as tabs will fatigue – for permanent installs only.
*Active cables (7.5m-15.0m) are custom tuned to length. Cable extensions or adapters at either end should be avoided.
APPLICATION SPECIFICATIONS
Video Format Support Data rate per channel / Aggregate, TMDS Bandwidth
480i/p, 576i/p: 540Mbpsc/1.62Gbps, 270MHz
720p/60, 1080i/60: 742.5Mbpsc/2.22Gbps, 371.25MHz
1080p:?8-bit RGB/YCbCr 4:4:4, 10/12-bit 4:2:2 or 4:2:0
23.98/24/29.97/30: 742.5Mbpsc/2.22Gbps, 371.25MHz
50/59.94/60: 1.485Gbpsc/4.455Gbps, 742.5MHz
3D-24/30: 1.485Gbpsc/4.455Gbps, 742.5MHz
3D-50/60: 2.97Gbpsc/8.91Gbps, 1.485GHz
10/12/16-bit RGB/YCbCr 4:4:4
50/59.94/60fps: 1.86-2.97Gbpsc/5.57-8.91Gbps, ? 1.485GHz
2160p (UHD/4K)
HDMI 1.4b, 8-bit RGB/YCbCr 4:4:4, 10/12-bit 4:2:2 or 4:2:0
4096x2160p/24 (SMPTE): 2.97Gbpsc/8.91Gbps, 1.485GHz
3840x2160p/23.98/24/29.97/30: 2.97Gbpsc/8.91Gbps, 1.485GHz
HDMI 2.0, 8-bit YCbCr 4:2:0
2160p*/50/59.94/60: 2.97Gbpsc/8.91Gbps, 1.485GHz
HDMI 2.0 mode, 8-bit 4:4:4, 10/12-bit 4:2:2 or 16-bit 4:2:0
2160p*/50/59.94/60-2D (CEA-861-F): 5.94Gbpsc/17.82Gbps, 2.97GHz
2160p*30-3D: 5.94Gbpsc/17.82Gbps, 2.97GHz
VESA graphics: Supports all as defined by HDMI specification
Color Spaces: RGB, YCbCr,
Additional information
| | |
| --- | --- |
| Weight | N/A |
| Dimensions | N/A |
| Length | |
| Cable Jacket Color | |