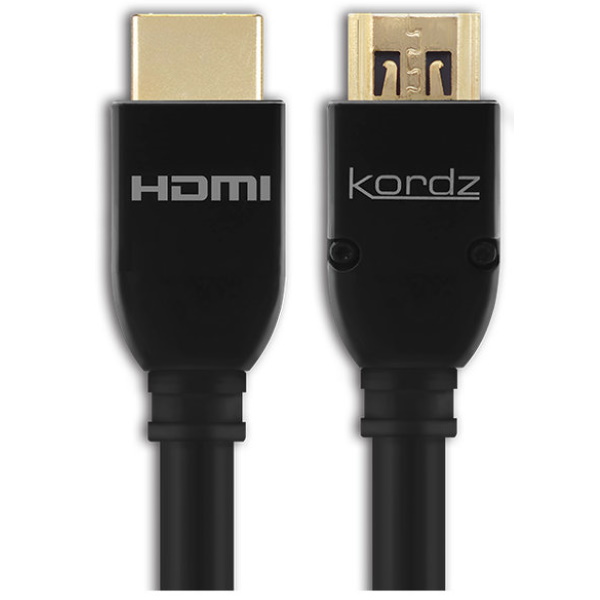 Kordz PRS3 4K UHD 18Gbps DPL Labs Certified PASSIVE HDMI CABLE
Product Information
4K UHD 18Gbps PASSIVE HDMI CABLE
Kordz PRS3 features a narrow profile full metal die-cast shell assembly behind a unique grip tab HDMI connector for 3kg receptacle retention capacity. Engineered to mitigate connector dropout potential – ?not suitable for repeated plug/unplug events.
DPL Certified 4K 18G-DC,
High Speed with Ethernet on all lengths,
Passive in lengths 0.5m – 5m / 1.64? – 16.4?,
Engineered to fit through 1in conduit,
Infrared soldered pin transitions for benchmark inter-terminal uniformity,
Unique grip tab connectors for permanent installations,
100% of units tested on the production line for electrical continuity on all pins, with full Bit Error Rate (BER) application test,
UL CMG fire rated in all lengths,
Limited Lifetime warranty,
Licensed HDMI 2.0 Adopter company.
---
DPL Laboratories 4K-18G Deep Colour
DPL Laboratories, Inc. are experts on high-band- width digital signalling solutions. The respected DPL 4K Product Certification Program is designed to combat the fears of cable and display manufacturers and end users alike.
---
HDMI COMPLIANCE
HDMI CTS Certification: High Speed with Ethernet
Certified Data Rate: 6.0Gbpsc, 17.82Gbps aggregate
Supported Data Rate: > 6.0Gbpsc, 17.82Gbps aggregate (4K UHD)
Supported HDMI Clock: 27-340MHz
MECHANICAL
Cable Diameter: 0.5m – 3.0m: 30 AWG, 5.7mm/0.22? ? | 5m: 28 AWG, 6.5mm/0.26? ?
Mounting Length:?0.5m – 3.0m: 30AWG, 47.0mm/1.85? | 5m: 28 AWG, 56mm/2.20?
Cable Bend Radius:?0.5m – 3.0m: 30 AWG, 24.0mm/0.94? | 5m: 28 AWG, 28.0mm/1.02?
Retention Force (nominal):?29.7N (3kg / 6.6lbs) 10/-5%
CONSTRUCTION
Primary Conductors: Solid 28-30 AWG OFC, length dependent
Insulation on TMDS: Foam-PE
Insulation on 4C HEAC Pairs: HDPE/FOAMED PE, length dependent
Shielding on TMDS Pairs: Al/Mylar
Shielding Overall: Al/Mylar Al braid 80% coverage
Cable Jacket: UL CMG fire rated PVC
HDMI Connector Shell: Pressed steel with dual grip tabs, 24K Gold plated
HDMI Connector Pins: Solid OFC,  24K Gold plated
Termination: Contactless IR induction soldering
HDMI Backshell: Charcoal powder coated with stoving varnish die-cast zinc alloy shell assembly