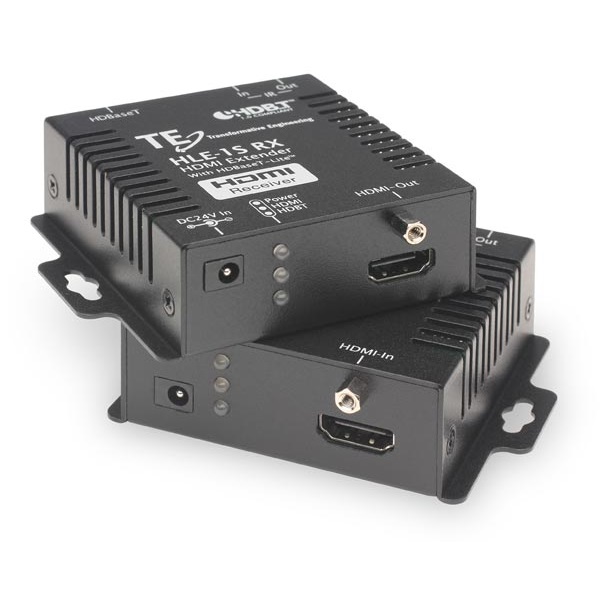 Transformative Engineering HLE-1S HDMI Extender Kit
HDMI/HDBase-T Extender Lite Economy System with IR
Product Information
For those requiring a budget-minded, simple HDMI Extender without all the full functions and features of our Flagship Product, we introduce the HLE-1S. Utilizing the latest version of HDBase-T known as "HDBase-T Class B", the HLE-1S offers HDMI extension up 70 Meters, along with Bi-Directional IR; all over a single CAT5e or CAT6 UTP cable. We continue with our tradition of a Single 24V Power Supply, injected at either the Transmitter OR Receiver side.
HDMI features include support for 4K x 2K resolution, 3-D, and all current Audio Formats including DTS-HD and Dolby True-HD.
Starting with our highly-regarded HL-1 Extender, requests for a simplified and even lower priced Extender from our Dealers led to the HLE-1S. The same care and quality that is built into every one of our products continues with the HLE-1S.
Product Features
Compact HDMI Extender Solution
Product Highlights
One Single UTP (Cat5e/CAT6) Cable required
Powered via one (supplied) 24V Power Supply
Diagnostic Indicator lights for monitoring performance and operation
High Quality Steel case for cooling, shielding, and safety
IR Bi-Directional paths with Power for Pickup and Pass Thru using included SMA-1 adapter.
Solid performance at 70 Meters at 1080p, 40m (130') @ UHD4K
Fully Automatic Cable length compensation. No dials or switches needed
Power from either end
Three (3) Year Warranty
Included in Kit
(1) HLE-1STX HDMI Transmitter Module
(1) HLE-1SRX HDMI Receiver Module
(1) 24V Power Supply
(1) SMA-1 IR Adapter Cable
(1) Installation Manual
Product Specifications
Input Signal:
HDMI Version 1.0 thru 2.0a
IR Signal – Pass Thru (Xantech Compatible)
IR Powered Pickup – Ring (Ground), Tip (Signal), Sleeve ( 12VDC)
Video Formats Supported:
480i/576i/480p/576p/720p/1080i/1080p/1080p@48bit
UHD4K-60Hz-42/
UHD4K-30Hz-444
Audio Formats Supported:
All HDMI Supported Formats, including DTS-HD,Dolby-HD, DVD-A, Dolby True-HD, 8-CH LPCM
Output Signal:
HDMI Version 1.0 thru 2.0a
IR Signal – Pass Thru (Xantech compatible)
Maximum Distance:
70 Meters (230 Feet) with CAT6 @ 1080p, 40 Meters (133 Feet) @ UHD4K. Greater distances at lesser resolutions
Power Supply (included):
12VDC @ .75A
Dimensions (each):
3.45" W x 2.68" H x .99" D (with connector)
Weight:
1 lbs (Each)