Xtreme Power TXVR Isolated Power Conditioner
Product Information
Product Documents
Power conditioning for voltage critical processes in the most demanding conditions
The TXVR Isolated electronic voltage regulator provides the cleanest power in the most demanding conditions. The galvanic isolation transformer prevents common
mode noise while voltage variations are eliminated by the electronic voltage regulator.
TXVR applications include laboratory, scientific, industrial, and any critical installation with voltage fluctuations and grounding or noise issues. TXVR provides dual output voltages and optional configurable PDU to meet a wide range of receptacle requirements.
PRODUCT SNAPSHOT
› Available models: 3.8kVA/3.8kW, 5kVA/5kW, 6kVA/6kW, 10kVA/10kW
› Regulates utility voltage variations to within ± 1% without batteries
› Eliminates surges, spikes and noise
› UL1778, cUL, FCC Class A, RoHS, TAA compliant
› 3 year warranty (USA and Canada)
FEATURES
Electronic Voltage Regulation—TXVR maintains output voltage at +/-1% with input variations of –45% to +45%
Surge voltage withstand capability—ANSI/IEEE C62.41 Category A & B, 6kV/200 & 500A, 100kHz ringwave
Galvanic isolation transformer—eliminates common mode noise and the need to install expensive dedicated circuits and provides power conditioning during normal and bypass operation
Static switch—automatically transfers output from inverter to the isolated bypass source in the event of an overload or fault
Surge voltage let-through (max)—< 10V normal mode (L-N), < 0.5V common mode (N-G) when subjected to 6kV ANSI/IEEE C62.41 Cat. A
LCD display—monitor vital and precise status and alarm information
Upgradable to UPS— TXVR is upgradable to UPS by upgrading firmware and adding battery cabinets.
Maintenance bypass— manually transfer critical loads from inverter power to utility power, enabling TXVR maintenance
MODEL SELECTION GUIDE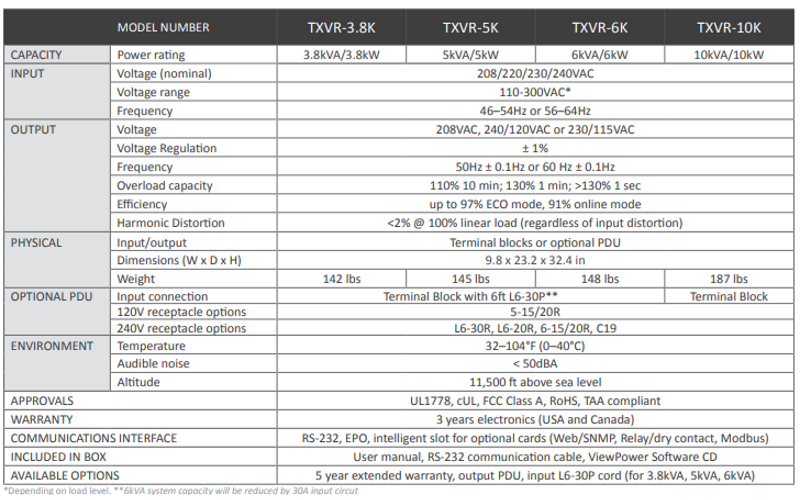 BLOCK DIAGRAM