MXNet is the AV over IP  video distribution ecosystem from AVPro Edge.

With the MXNet Ecosystem,  integrators finally have an end-to-end solution developed with them in mind. Our engineering team focused on three things, stability of the entire system, interoperability with any HDMI source, display, USB device, or control system, and easy deployment of the entire system. MXNet allows for unlimited sources, displays, USB devices & video walls; MXNet is the perfect video distribution system for your next installation. 

MXNet's Ecosystem includes formatting such as resolution scaling, full EDID management, HDR and Dolby Vision metadata, multifaceted video walls, and includes the MXNet MENTOR setup and control tool – making installations easy on the integrator, while also presenting a major WOW factor for your client. MXNet is the ideal audio/video distribution method for corporate, education, hospitality, government, financial, and large luxury homes.
For a compete overview of the AVPro MXNet Ecosystem

CLICK HERE

.
For Application Diagrams for the AVPro Edge MXNet Ecosystem

CLICK HERE

.
---
The AVPro Edge MXnet AV Over IP System Builder
---
Below you can find  each component of the ecosystem. Putting an ecosystem together is simple, with these determining questions you will know exactly what your installation calls for: 
How many Sources? (this determines how many encoder (transmitter) units you will need)
The encoders come either with or without audio video downmixing. If you need to extract 2-channel audio from a source for use in an 2-channel audio distribution system, AND still pass fully encoded Dolby and/or DTS surround sound encoding to a home theater, choose the AC-MXNET-1G-AVDM-E. Otherwise choose the AC-MXNET-1G-E.
How many Displays? (this determines how many decoder (receiver) units you will need) 
You'll need one decoder for each display. If you're including a video wall (2×2, 3×3, 4×4…) in the system, you'll still need one decoder for each display in the video wall.
Every system needs a Controller for signal switching, so make sure you dedicate one endpoint for the AC-MXNET-CBOX.
What type of signals are you using? 4K or 1080p? (this determines how much data is needed) 
With the above information you can use the Network Switch Guide below to determine the network switch(es) you will need to purchase.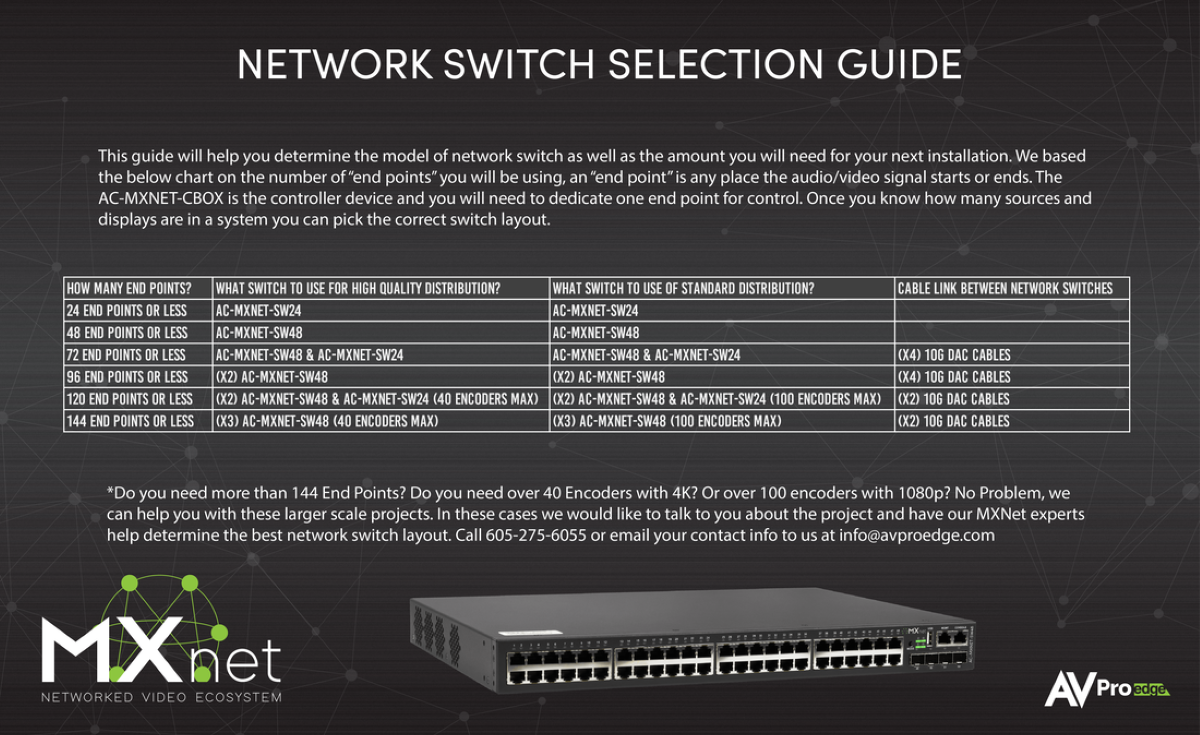 And last but not least… Don't forget the accessories!
The AC-EZRACK-15 is the perfect rack mounting solutions for encoders, decoders, and the controller. (Just add up the number of encoders and decoders + 1 (for the controller) and divde by 15.  If you need to interconnect more than one network switch you'll need (2) 10Gb DAC cables between each swtich for best performance. And if you are connecting any of the encoders to decoders via fiber rather than a netowrk cable with PoE, you'll need a 10Gb SFP Module (single mode or multi mode) and a power supply for each unit connected via fiber.