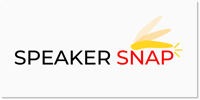 Speaker Snap provides the fastest, simplest banana plugs in the industry. The connectors use a patent pending lever to make a secure connection – no set screw required! The powerful spring and gold-plated plug lock the wire in place for a solid electrical connection. They support 12-24 AWG wire without the need for multiple products or fittings. Speaker Snap banana plugs are a must-have timesaver for every A/V installer.
---

The Fastest Banana Plugs Money Can Buy
1. INSERT WIRE
Strip the wire 1/2" and insert into the back of the Speaker Snap
2. SNAP & LOCK
Simply snap the switch down to lock the wire firmly in place
3. PLUG IT IN
Plug the wire into speakers, receivers, wall plates and more!
---

---