Kordz PRO3 4K Active Optical HDMI Cables

Kordz PRO3 Active Copper HDMI Cables exceed the standards of performance and flexibility, delivering 18Gbps 4K resolution over long distances and they optimised through Active Copper Technology. Fully shielded high quality ABS shells and 1kg connectors provide resilience in demanding applications where a cost-effective, reliable solution is required. Fit Kordz PRO3 Active Copper HDMI Cables with confidence, backed by the Kordz warranty.
Available in 10m, 15m and 20m lengths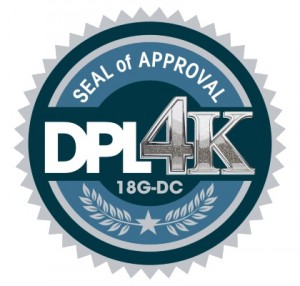 Product Information
Documents
Product outline
A solid 1kg grip, ensuring connectors stay in place for as long as required
A compact 18mm wide ABS headshell for easy installation
Reinforced internals for superior flexibility and pull strength during installation
A lightweight and UL CMG fire rated jacket for safety
No external power dependencies, it works like a normal passive HDMI cable
DPL Labs certified for 18Gbps applications
High contrast detailed labelling with inventory management design
Available in 10m, 15m, 20m
---
Application
Data Rate: Up to 18.2Gbps (TMDS mode)
Video Resolution: Up to 8K (7680 x 4320) / 10K (10240 x 4320)
Video Refresh Rate: Up to 240 frames per second
Colour Depth: Up to 16 bits
Colour Formats: RGB 4:4:4 / Y'CBCR 4:2:2 / Y'CBCR 4:2:0
Content Protection: Up to HDCP 2.2 supported
Audio Sample Rate / Channel: Up to 192KHz
Audio Sample Size: Up to 24 bits
Audio Channels: Up to 32 channels
Audio Formats Supported: DTS Master, DTS:X, Dolby TrueHD, Dolby Atmos
Auxiliary HDMI Features Supported: Consumer Electronic Control (CEC), Auto Lip-Sync Correction, Audio Return Channel (ARC), Enhanced Audio Return Channel (eARC), High Dynamic Range (HDR)
---
Technical info
HDMI CERTIFICATION 10.0m – 20.0m ACTIVE OPTICAL
DPL Labs Certified Data Rate: 6.0Gbpsc, 17.82Gbps aggregate
Supported Data Rate: > 6.0Gbpsc,17.82Gbps (4K UHD)
Supported HDMI Clock: 27-340MHz
MECHANICAL
Cable Diameter: 4.70mm±0.15mm / 0.19" Ø
Mounting Length: 50.0mm/1.96"
Cable Bend Radius: 20.0mm/0.78"
Retention Force (nom): ≥ 9.8N (1kg / 2.2lbs) +10/-5%
CONSTRUCTION
TDMS: OM3 (50/125) optical fibre
Conductors: Tinned copper, 32-26AWG
Insulation on TMDS: CMG Composite Polymer
Insulation on 4C + HEAC Pairs: FEP / FRPVC
Shielding Overall: AL/Mylar
Cable Jacket Material: CMG FRPVC Composite, 10-20m lengths
HDMI Connector Shell: Premium Gauge folded steel, 1µ" 24K Gold-plated
HDMI Connector Pins: Solid OFC, 15µ" 24K Gold-plated
Active Technology: Directional, In-shell Optical Light Engine
Termination: Contactless IR induction soldering
HDMI Backshells: ABS front shell with PVC injection moulded boot and strain relief
---
Warranty
The Kordz PRO3 Active Copper HDMI Cable is backed by our 2 Year Product Guarantee.
Additional information
| | |
| --- | --- |
| Weight | N/A |
| Dimensions | N/A |
| Length | |