MX NET: AV OVER IP FROM AVPRO EDGE FOR THE HOME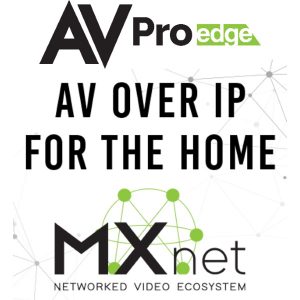 To See the AVPro Edge MXnet products CLICK HERE
AV over IP gives integrators the ability to route audio-video signals through a network switch allowing users to display, repeat, or switch a signal through commands to the network switch. You can now set up a completely customized solution for your client's home but only have to purchase the exact amount of encoders and decoders the job calls for. This article will talk about how the MX Net Ecosystem from AVPro Edge will allow you to deliver a unique audio-video solution that is custom-built for the environment.
MX Net is creating the entire ecosystem, so you don't have to find pieces elsewhere. The Network Switch, Encoder, Decoder, and Control Processor will be available from AVPro Edge under the MX Net line of products. Want a network brand that you like using? No problem, we can help you configure it for the MX Net system.
Features of MX Net:
Built-In Scaling
Quick Signal Switching
Dolby Atmos Downmixing
DTX-HD/DTS-X Downmixing
Control Drivers
USB Extension
Easy Configure, no IT knowledge required
Fiber or Copper infrastructure Support
No Cost Web GUI for set up and control
Specialized Control4 Support
Flash feature for quick troubleshooting and finding of units
OLED display on each encoder and decoder displaying IP address
Networked Audio Support
RS-232 Control passthrough and routing
IR Control passthrough and routing
CEC power on/off commands built-in
EDID control
4K60 (4:2:0) / 4K30 (4:4:4) support
Dolby Vision Support
Control Processor works with 3rd party switch support
---
​WHY WOULD AN INTEGRATOR CHOOSE MX NET OVER OTHER AV OVER IP SOLITONS?
Unlimited Video Walls
With the MX Net System, you can set up and run an unlimited number of video walls in all sorts of configurations. Many AV over IP Systems will limit the number of video walls present in a system because of the added processing it takes for each wall. AVPro Edge's engineers designed the MX Net system to bypass this limitation. Two main features of our video wall include:
Panel Rotation: Rotating the video wall panels 90 or 180 degrees allow for outside the box layouts.
Gen Lock: Each signal is generated simultaneously, so each frame is getting displayed at exactly the same time, assuring your image is always synced.
Installing ultra-engaging systems with eye-catching features will put you ahead of your competition and keep word of mouth positive, increasing the total number of installs while adding to the company's bottom line.
Dolby Vision/HDR
MX Net's engineers spared zero brainpower when programing our encoding methods—designing a data flow that not only kept latency extremely low but also allowed for the processing of HDR and Dolby Vision metadata. With the MX Net system, you can process Dolby Vision and HDR throughout a whole system, delivering billions of beautiful colors to every display and video wall that is a part of the installation.
​
Be the integrator that delivers the latest technologies and builds systems ready to stand the test of time. This drive to deliver the best will make potential customers notice your company above others, keeping your install pipeline full. ​
MX Net Mentor – Easy to Construct, Configure, Create and Control 
The MX Net system comes with the MX Net Mentor software, walking users through each step of the way; even if this is your first time installing a MX Net system, you will be able to breeze through the entire process.
Construct – Build the system by auto finding each Rx and Tx unit – replicating the physical system in a digital space, receiving each MAC address, automatically assigning the IP address and multicast channel, and plugging in Rx and Tx units.
Configure – Assign custom names with descriptions, such as location. You can set EDID for each channel, set scaling on each of the outputs. The Extensive Diagnosis includes link quality, link speed (critical), and the ability to check the signal's quality using green, yellow, red codes.
​
Control – Auto-matrix allows you to switch your system between any of the connected Tx's and Rx's. Extend KVM, IR, RS-232, as well as encapsulate your own RS-232. You can do RS-232 over IP; we call this serial passthrough. We also have serial routing where you plug in a control system then the Mentor software allows you to select what receiver signals you want the control system processor to receive. The same process with IR, we have I-Pass and IR. CEC power on and off, with over 50 of the most common signals included, ensuring any TV can be powered on or off; this would be CEC over IP. Control becomes even easier when you have a built-in screen preview to view each source inside the Mentor software, updating every 15 seconds.
---
Light Control and a Data Window – Hardware Features Proprietary to MX Net
MX Net has various unique features engineered explicitly for the A/V installer; When a viewing room is very dark, even a flashing tiny green or blue light on a decoder hidden behind the display can be a big distraction. MX Net has solved this problem by giving the integrator full control of what lights are showing on our decoder units. Another feature with MX Net is that each individual encoder and decoder has an OLED screen that can display the IP address, MAC address, or whatever custom name you gave the unit in the MX Net Mentor Software.By delivering features like this, you can tell a significant amount of thought was put into the development of this product. These features make set up quicker and easier, and we all know time is money.
Auto Set Up Encoders and Decoders
With most AV over IP methods, the user is tasked with setting up each encoder, decoder, control computer, and switch separately. With MX Net, all the heavy lifting has been done. All you need to do is make sure you follow the correct Switch Guide when connecting your encoders and decoders. When you open up the MX Net Mentor Software, it will configure each one automatically—no more wasting countless hours with set up! Finish the installation correctly and quickly with the help of MX Net's built-in tools. Now, you have time to get to the next job, increasing the number of installs your techs can do in the same amount of time.
How to Buy?
MX Net will be launching very soon. Do you have a project you think MX Net may work for? Please contact us today at 239-948-3789 x 120 or email us at info@futureadysolutions.com one of our representatives can go over your installation and determine the best solutions.