Kordz PRS4 8K Passive Ultra High Speed Certified HDMI Cable

The Kordz PRS4 Passive HDMI Cables are designed to meet the high demands and rigour of
professional integration. The Kordz PRS4 range features cables that are compact, tough and
flexible with a 2Kg retention force die-cast connector. Kordz PRS4 HDMI Passive Cables support
the full features and benefits of the latest HDMI technology when using 4K HFR or 8K devices.
Available in 0.5m, 1.0m, 1.5m, 2.0m, 3.0m, 4.0m, and 5.0m lengths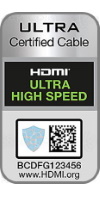 Product Information
Documents
ULTRA HIGH SPEED CERTIFICATIONS
Ultra High Speed – Certified Cable
The HDMI 2.1 Specification includes a new cable – the Ultra High Speed HDMI® Cable. It's the only cable that complies with stringent specifications designed to ensure support for all HDMI 2.1 features including uncompressed 8k@60 and 4K@120. The cable's increased bandwidth capability supports up to 48Gbps.
---
Application
Data Rate: Up to 48Gbps (FRL mode) | up to 18.2Gbps (TMDS mode)
Video Resolution: Up to 8K (7680 x 4320) / 10K (10240 x 4320)
Video Refresh Rate: Up to 240 frames per second
Colour Depth: Up to 16 bits
Colour Formats: RGB 4:4:4 / Y'CBCR 4:2:2 / Y'CBCR 4:2:0
Content Protection: Up to HDCP 2.3 supported
Audio Sample Rate / Channel: Up to 192KHz
Audio Sample Size: Up to 24 bits
Audio Channels: Up to 32 channels
Audio Formats Supported: DTS Master, DTS:X, Dolby TrueHD, Dolby Atmos
Auxiliary HDMI Features Supported: Consumer Electronic Control (CEC), Auto Lip-Sync Correction, Ethernet channel, Audio Return Channel (ARC), Enhanced Audio Return Channel (eARC), High Dynamic Range (HDR), Dynamic HDR, Variable Refresh Rate (VRR), Quick Media Switching (QMS), Quick Frame Transport (QFT), Auto Low Latency Mode (ALLM), Display Stream Compression (DSC), Source-Based Tone Mapping (SBTM)
Technical info
HDMI CERTIFICATION ≤ 5.0m PASSIVE
HDMI CTS Certification: Ultra High Speed HDMI® Cable
DPL Labs Certified Data Rate: 12.0Gbpsc, 48Gbps agg
Supported Data Rate: ≥12.0Gbpsc, 48Gbps agg (8K UHD)
Supported HDMI Clock: 1200MHz
MECHANICAL
Cable Diameter: 0.5m – 3.0m: 30 AWG 6.0mm / 0.24in Ø | 4.0m – 5.0m: 26 AWG, 8.0mm | 0.31in Ø
Mounting Length: 0.5m – 3.0m: 30AWG, 60.5mm/2.38" | 5m: 28 AWG, 67.5mm/2.66"
Cable Bend Radius: 0.5m – 3.0m: 30 AWG, 36.0mm/1.42" | 5m: 28 AWG, 48.0mm/1.89"
Retention Force (nominal): 20N (approx. 2kg / 4.4lbs) +10/-5%
CONSTRUCTION
Primary Conductors: Solid 30-26 AWG OFC, length dependent
Insulation on TMDS: Polyethelyene / Polypropylene, length dependent
Insulation on 4C + HEAC Pairs: Polyethelyene / Polypropylene, length dependent
Shielding on TMDS Pairs: AL/Mylar, 100% Coverage with 25% Overlapping
Shielding Overall: AL/Mylar, 125% Coverage + Tinned copper braid, min 85% coverage
Cable Jacket: UL CMG fire-rated PVC composite materials
HDMI Connector Shell: Anti-fatigue die cast Zn alloy, 1μ" 24K Gold plated
HDMI Connector Pins: Solid OFC, 15μ" 24K Gold plated
Termination: High Frequency Soldering
HDMI Backshell: ABS front shell with PVC injection moulded boot and strain relief
---
Warranty
The Kordz PRS4 Passive HDMI Cable is backed by our Lifetime Guarantee that promises maintained product functionality and performance for your lifetime.